07 Jan 2022
A new generation of Microsoft Teams apps are emerging
Verto 365 provides a harmonious structure to work, where information, activities, and shared data and documents sit in a central, virtual, place.
The NHS implemented Microsoft Teams in March 2020 to be used alongside NHSmail, the national collaboration platform used by the health and social care workforce. The pandemic has propelled Office365 firmly into the forefront of collaborative working across many industries but within the NHS specifically, upwards of 65 million messages have been sent and 2.9m hours saves between its roll out in March 2020 and autumn of the same year, according to some sources.
With this, we've seen the need for supporting apps within Microsoft Teams grow, as the requirement to build integrations and automations between functions of businesses (that would have formulated as physical meetings in the old world) for a seamless work environment becomes more important to allow a more fluid and flexible working structure that suits all.
This new breed of app allows you to do much more from within Microsoft Teams. Verto 365 is our latest enterprise and is used by large Central Government organisations such as UK Research & Innovation (UKRI) to encourage next-level productivity by aligning complex business processes and providing powerful work and project management software directly from within Teams.
Verto 365 provides a harmonious structure to work, where information, activities, and shared data and documents sit in a central, virtual, place so people can access it all quickly while executing their own individual working style in order to maintain the productivity they once had. Put simply, Verto 365 helps to bring people and processes together when needed, but also offers organisations and departments the freedom to act as individually as required when it suits.
Verto 365 embeds its functionality within the Microsoft Teams platform to create a new level of serviceability that lets you do more. Like share documents, build dynamic dashboards and produce interactive Gantt charts, for example, without having to log into the Verto site itself, or navigate away from Microsoft Teams, and it's all automatically shared with everyone in your team, in real time, without having to leave your Microsoft Teams window.
The recently launched Verto Playground is a testing ground for free trial-ers to sink their teeth into best practices around using Verto 365. The free trial is available for an unlimited amount of time and is rich with sample data, example projects, guides, hints and tips that enable learning and development of the powerful project management tools on offer.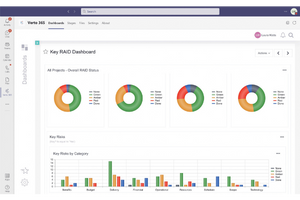 Upgrade your Microsoft Teams to include Verto365 today. Find out more at Vertocloud.co.uk, head to Microsoft Teams to install Verto 365 as a free trial and visit us at our stand J20 at the entrance to The Digital Healthcare Transformation Keynote event space during The Healthcare Show at the London Excel on 18th & 19th May 2022.